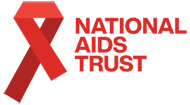 What we do
National AIDS Trust is dedicated to transforming the UK's response to HIV.
We champion the rights of people living with HIV and campaign for change—shaping attitudes, challenging injustice, and changing lives.
We believe everyone deserves health and equality and we won't let HIV stand in the way.
Our Goals
Effective HIV prevention.
Early diagnosis of HIV.
Universal access to HIV treatment, care and support.
Eradication of HIV-related stigma and discrimination.
Increased public awareness and understanding of HIV and AIDS.
Our Values
National AIDS Trust seeks to embody our values in everything we do—including how we approach our work, how we treat our staff, and how we work with others:
We believe that people living with and affected by HIV are at the core of everything we do—we seek opportunities for greater and more meaningful involvement of people living with HIV in all our work.
We believe passionately in equality and human rights—so this is at the centre of everything we do.
We are brave—we speak out and are never afraid to challenge the status quo.
We are persistent—we persevere until we create change, however long it takes.
We are collaborative—we work to build relationships of mutual trust and respect because we know we can't do this alone.
We are honest—our integrity and credibility are crucial so we protect them by being independent, transparent and accountable.
We are thrifty—we make every penny count to ensure that we can make the maximum impact.
How we create change
We believe we make the most lasting and positive impact on the greatest number of lives by changing attitudes, behaviour, decisions and policies. We focus on influencing law and policy and we seek to influence those whose actions have the biggest impact on the lives of people living with and affected by HIV in the UK.
With over 30 years experience fighting for health and equality in HIV, we have the expertise and practical resources needed to make a real difference. Not only are we capable of bringing about change but we also have a strong collective desire to do so.
By upholding our solid set of values and protecting our independence, we always act in the best interest of people affected with HIV and we create the change that we passionately believe in.
Learn more at https://www.nat.org.uk